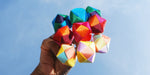 Wow, September has come to greet us!
Wow, September has come to greet us - as it's been a minute we wanted to say hello to our ByGA beauties!
How fast is the year going guys…
The seasons are changing, leaves from the trees are falling and the nights are getting shorter - but that doesn't mean the fun is stopping. As we say a 'see you later', to the impromptu picnics, scenic rooftop bars, garden parties and trade them in for 'back to the office' comebacks, autumnal strolls and cosy movie marathon nights in, we're here to remind you that ByGA is the perfect accompaniment to every seasonal transition.
It's no secret that we are BIG on self-care, and we hope you took full advantage of grabbing all the vitamin D the sun had to offer this summer. Filled with endorphins, we want to keep that energy going come rain and shine, because let's face it you have to adapt in this British weather girls!
Early on this year, we promised to experiment more and we hope you're excited by what we've brought out so far. Remember, your biggest cheerleader is the reflection you see looking back at you and our Joy mirrors released in March, are here to remind you of how amazing you are.
Shortly followed, The Gabriella – have you met her yet?
Our most colourful creation to date, available in three beautiful colourways: Royal Red, Cool Blue and Pretty Pastel. Light and easy to wear, these colours were selected to compliment every skin tone and outfit.
We have plenty more in store for you over the next few months, so make sure you follow our Instagram, Pinterest, TikTok platforms and head over to our website to get your hands on our latest additions.
Take advantage of all that life has to offer tribe and don't forget to tag us in your pictures when wearing your ByGA creation.
Talk soon,
Team ByGA x