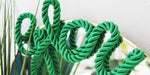 We love the month of March!
Have we mentioned just how much we love the month of March?
The days are getting brighter which we are finding to be such a natural and powerful mood booster. As flowers begin to bloom, signalling the start of Spring, we cannot help but get excited for the days ahead. Kicking off the festivities is International Women's Day (March 8th) – this year's theme happens to be centred around leadership, and the remarkable efforts by women around the world, in shaping a more equal future. We then get to spread joy, love and TLC to our mums and caregivers on Mother's Day (March 14th).
We love March as it is a month dedicated to celebrating the incredible women around us.
March is extremely special to us here at ByGraceAmbrose, as it marks a year since we decided to take the leap in relaunching our brand. We overcame many obstacles over the course of the year – three lockdowns, establishing an online presence, and overcoming burnout (a story for another day)!
We discovered the practice of multi-tasking - juggling an online business, holding down a full-time job, and scheduling lots of time for self-care. We have been inspired by so many amazingly talented women doing incredible things in their field, and setting up businesses in a worldwide pandemic. We admire the strength, resilience, and the online support system that has ensued as a result. Women stepping outside of their comfort zones and being bold is a mantra we hold dear to our hearts. As we celebrate our one-year anniversary, we just wanted to send a massive thank you to you all, and remind you that this is only the beginning of our journey.
In true ByGA fashion, we have special events planned on our socials, taking place over the next few months, that we would love for you to be a part of. Be sure to follow our Instagram and watch our stories as we share our ByGA Gang appreciation posts.
In need of a bit of motivation?

Our Pinterest has got you covered with eye-catching mood boards and quotes to cheerlead and encourage you throughout the months. Head on over to our ByGA Tik Tok channel, where we share tips on how we have managed to incorporate a work-life balance in our video - 'How To Manage a Growing Side Hustle Alongside a Busy 9-5'. 
Before we go, we just wanted to remind you that you are beautiful inside and out – but our ByGA Positive Affirmation Mirrors say it best. Perfect for the bedroom, living room, office, bathroom – to be fair we think they complement every space, guaranteed to add a touch of ByGA's bold, bright and playfulness to any room. Our mirrors are a thoughtful gift for that wonderful Glow-getter in your life…
Don't forget to take a look at our staple pieces from our ByGA Collection – we all need a little bit of neck-candy to get us by!
Can't wait to catch up with you next month.
Lots of love,
TeamByGA x