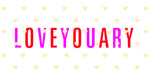 A Special Month Of LOVE YOU's!
Roses are red,
Violets are blue,
We're so happy that its February,
A special month of LOVE YOU's!
Glow-getters, we were on a roll with renaming the months of the year so we thought why stop at Glowanuary! To tell you the truth, we actually couldn't resist…
Say a warm hello to LOVEYOUary, a month for all the LOVE YOU's in your life!
At ByGA we're encouraging you to take the opportunity to make your appreciation known and felt for your friends, family and secret admirers. More importantly, we're here to remind you to practice self-love - which we know can often be the toughest love to give.
If you're looking for inspiration on ways to treat yourself over the course of the next few weeks, join us as we embark on 'A Dash of Self-Love' 14 Day Challenge. Each tip will motivate you to add a touch of TLC to your day.
The fun doesn't stop there, check out our Pinterest where we have also added a LOVEYOUary board. We'd love for you to add to it, snap it and create your own. Don't forget to tag us so that we can see what you've put together.
So, what have we been getting up to since our last post?!
Last month we gave you a clue about an exciting new arrival.
(Did you guess correctly?)
*Drum roll*
Joy - Love You Heart Shaped
(Self-Love) Mirror £27.00

Joy - The Glow-Getter
(Self-Empowerment) Mirror £42.00
Introducing our beautiful range of Positive Affirmation Mirrors, which have been created in true ByGA fashion to champion you with every glance. Each mirror has a supportive statement printed on the surface for that extra added confidence boost. There are five to choose from, have a look on our website and let us know which one resonates with you the most!
We hope they puts a smile on your face during the month of LOVEYOUary. Never forget that we're all in this together.
Take care, ByGA Gang x